Lately, there has been a lot of hubbub and hullabaloo over the comments of one Oswaldo Guillen, formerly of Chicago White Sox infamy, over his comments basically saying he respects Fidel Castro for being a zombie cyborg cockroach. Naturally, the Cuban ex-patriot community of Miami is up-in-arms, given that Ozzie now manages the Miami Marlins and given that many of them either escaped from or are descended from people who escaped from Castro's repressive Communist regime.
Ozzie was known around Chicago as being that 'lovable scamp' who 'always had something to say' and was often 'verbally abusive' and 'hated homosexuals.'
Far be it from me, the man with the strange
obsession with Vladimir Putin
, to cast stones here. After watching the sports television apparatus and having discussed this issue thoroughly with a coworker of mine over $2 burgers this afternoon, I have come to the conclusion that the Miami Marlins and Ozzie kind of deserve each other.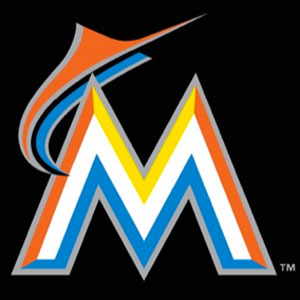 This logo screams "AAAAAAAARRGGHH!!"
You may not immediately recall the Miami Marlins. Up until this year, they were known simply as the Florida Marlins. And while they have in fact won two World Series titles over the course of their twenty-two year existence, are roundly ignored by the majority of baseball fans. They have a reputation for stinking worse than microwaved salmon. I make this joke for three reasons: (1) as I write this, there is an eau du cooked fish wafting about the office, (2) their mascot is a damned fish, and (3) ten games into the season, they are not so good at the baseball.
This widespread indifference, combined with the stench of suckage and the presence of the eternally Evyl Miami Heat distracting people from all other sports, lead the Brass Marlins – er, Marlin brass – to make some "marketing corrections," which involved changing their uniforms from bad to abominable, moving into a new stadium the design for which is based off of the owner's napkin doodling, and installing this monstrosity in centerfield.
I wonder if there were any conscientious objectors among the work crew.
This is called, rather creatively, the "Home run feature." Supposedly, whenever the home team hits a home run, this… thing lights up and then murders taste, tact and tradition.
And so, as you can see, the Marlins scream colorful. Their uniforms are colorful; their stadium is colorful; the Home Run feature, oh God the Home Run feature; and so now they have a 'colorful manager.'
Good luck Ozzie, and happy hunting. Or fishing.